Are you tired of trying various improvement ideas to spruce up your office's look? Seems like nothing worked out? If so, it may be the right time to think about professional carpet cleaning. Hiring a commercial cleaning company is crucial to maintain a clean workplace. They use the latest in carpet cleaning technologies to maintain your carpets and upholsteries in top-notch condition. Unfortunately, most business owners underestimate the importance of hiring a professional commercial cleaning melbourne company. Here are some benefits of entrusting the carpet cleaning job to the experts.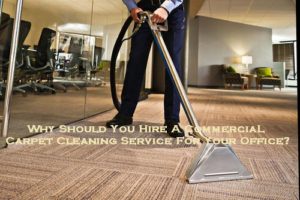 Creating A First Impression:
As a business owner, you want to create a lasting impression on your clients. If your carpets are stained or dirty, it leaves a poor impression of your business. In any office setting, floors are the noticeable part of the décor. Covering them with clean carpets will help you impress the clients and create a good brand image.
Extended Lifespan To Your Carpets:
Regular maintenance of all the office fittings is important to avoid costly repairs and replacement. This is applicable to the carpets as well. Over time, your office carpets will collect dirt, allergens, dust and other debris, leading to damages and tearing. Carpet cleaners use the most appropriate cleaning technique depending on your carpet's fabric. This helps in keeping your carpet clean and extending its lifespan.
Fewer Sick Days:
Opting for a professional commercial cleaning services in melbourne is crucial for improving the wellness of your employees. It helps creating a hygiene environment that is free from germs, dander, allergens and other pollutants. When your employees are provided with an enabling, hygienic work environment, the number of sick days will be reduced whereas the productivity of your business will be increased.
If you would like to have your carpets cleaned by professional commercial cleaners melbourne, trust Commercial Clean Melbourne. We have got the prerequisite expertise and tools to create hygienic working environment. For any questions you may have on our carpet cleaning services, give us a call on 1300 963 650 and talk to one of our experts today.