If you own an office, commercial cleaning service is something you should invest in. You must have a clear understanding of what kind of services they will provide. For your knowledge, we are sharing a few of the office cleaning tasks that you can expect from the commercial cleaners melbourne.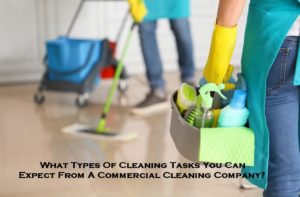 Daily Cleaning:
Your reception area is the first thing that your clients and visitors see when they come to your office. Though you have the friendly and helpful manager to greet the client, your client will only remember the unpleasant odour and dirt and grime sticking on the surfaces. Set up your business for success by having a professional office cleaning company melbourne by your side.
Here Are A Few Daily Cleaning Tasks You Can Expect From The Office Cleaners:
Emptying trash cans and replacing the trash bags
Vacuuming carpets and mats
Mopping wood and hard floors
Dusting and wiping desks, tables and other furniture
Cleaning internal glasses and entry doors
Cleaning and organising reception areas
Other Services You Can Expect:
Carpet Cleaning:
Carpets can become a hotbed for allergens and dander if not cleaned regularly. When you hire a commercial cleaning company melbourne, they will have your carpets cleaned and make them look welcoming and professional.
Restroom Cleaning:
A clean and sanitised restroom is vital to employees' health and safety. The goal of office cleaning is not just about creating a tidy workplace but also to reduce the risk of spreading diseases. The commercial cleaners will clean and sanitise toilets, sinks and walls, ensuring hygienic restrooms.
Window Cleaning:
Cleaning windows can be a tedious task for a typical housekeeper, but it is going to be just a matter of thing when you work with a reliable commercial cleaning company. From dusting window sills to wiping the glasses, the office cleaners melbourne will take care of everything.
For professional office cleaning services Melbourne, you can turn to Commercial Clean Melbourne. We have been in the industry for many years and are able to provide personalised cleaning services matching your unique cleaning needs. To know more about our cleaning services and for a free quote, call 1300 963 650 and talk to us today.