If you own or manage a business, you're probably familiar with commercial cleaning and the ways it differs from domestic cleaning services. But did you know there is more than one type of commercial cleaning? To pick the right service for your premises, it's important to understand what each provides.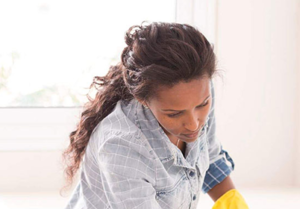 Green Cleaning
Green cleaning services (eco cleaning) are increasing in popularity as many businesses attempt to offset their carbon footprints. This type of commercial cleaning encompasses any process which uses only environmentally friendly products and techniques. For office cleaning, this might mean the application of detergents without sulphates, parabens and artificial colourants.
Carpet Cleaning
Commercial cleaning doesn't always involve an entire building. Often, businesses employ commercial cleaners to handle a specific part of the premises such as the carpets. This is because carpeting requires special care. Most carpets require professional steam cleaning. Other types of cleaning may damage the fibres or increase the risk of mould and odours.
Window Cleaning
Similarly, office windows require special cleaning tools and techniques. It is rarely safe for companies to handle glass cleaning independently, particularly if the premises are above the ground floor. This is why most hire specialist window cleaners to reach high spots using moveable platforms and harnesses.
Emergency Cleaning
Perhaps the least used but most important type of commercial cleaning is emergency cleaning. Emergency cleaners are called after an unexpected event such as a flood, fire or break in. They are able to attend very quickly because most operate 24/7. Even if you think there's no chance of an emergency occurring at your premises, we recommend keeping the number of a reliable provider to hand. Emergency cleaners work fast – often through the night – to make sure an office is habitable as soon as possible following an incident.
Commercial Clean Melbourne provides commercial cleaning services to suit all needs and environments. If you need a one off or regular cleaning service, give us a call today on 1300 963 650.