Bond cleaning is not only crucial for houses or also for commercial facilities like offices. So, if you're moving to a spacious, compact or easy-to-access workspace, consider getting your office cleaned before moving. Moving your business from one location to another is quite a tiresome process. Before planning your relocation, you need to hire professional commercial cleaning services to clean the area and ensure everything is sanitised. Instead of hiring local janitors for a poorly done job, hire a team of commercial cleaners melbourne to deep clean the space. Let's get started.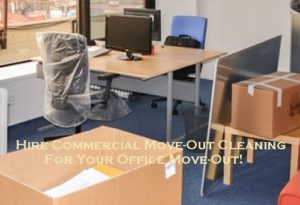 Declutter Before Moving
Well, decluttering is the best part to move unwanted items from the office. So when you move out, you will take only the stuff that is in good use & prep the area for cleaning. When the space is emptied for cleaning, the cleaning will be efficient & proper.
Call The Cleaning Professionals
When it comes to move-out cleaning, taking the help of a commercial cleaning company is always the best bet. A reputed commercial cleaning melbourne company can help remove allergens, dust, mould, and other substances from your office. They will provide high-quality cleaning services, which help you get a professional image.
Schedule Cleaning At Regular Intervals Before Moving
If you have a limited time to move out of the office, make sure to list the cleaning requirements and the intervals required. So, pick a office cleaning melbourne company that will work with your office cleaning needs, budget and create a tailor-made cleaning plan accordingly. The cleaning requirements of your office may vary & it's best to discuss the cleaning needs with the cleaning company. Not only do you get the top-notch cleaning that can make a difference in the appearance of your office.
Aside from this, you can even clean the new office & you can enter the new space with confidence. If you're looking for commercial cleaning services melbourne, call Commercial Clean Melbourne on 1300 963 650.