With the whole world fighting against the highly contagious Corona Virus, many customers and employees anticipate businesses to upkeep stringent cleaning protocols. To fulfill this expectation, businesses are ramping up their cleaning efforts. If you own a business, consider the following types of commercial cleaning tasks to keep your workplace fresh, clean and safe for your customers and employees.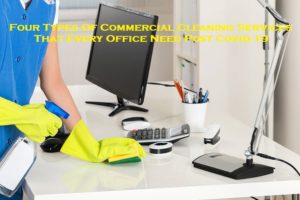 Air-Duct Cleaning:
The Covid-19 Pandemic has emphasised the importance of indoor air quality. Though we are returning to normal in several aspects, still the significance of ensuring good air quality for employees continues.
Carpet Cleaning:
Carpets serve many purposes in workplaces. They provide a soft feel for your foot, and make your commercial space look welcoming and professional. However, they also become a hotbed for allergens and dander such as dust mites, particle pollution, pet dander, cockroach allergens, spores, dirt, dust and pesticides. Regular carpet cleaning not only removes dirt and grime from the carpet, but also extends its lifespan.
Upholstery Cleaning:
Cleaning all the office upholsteries help removing germs, dander, dusts, and allergens embedded in it. In addition, it also helps preventing the damage to your upholsteries and extending its lifespan. This kind of services is important for high-traffic commercial spaces such as health clinics, doctor's offices, etc.
Deep Cleaning:
Deep cleaning is very important in every commercial setting, but it has become a standard practice since the outbreak of this Covid-19 pandemic. Regular deep cleaning your office makes your workspace feel more welcoming and prevent the spread of this fatal disease. It also reduces the build-up of everyday dirt and grime, saving you time on everyday cleaning tasks.
No matter what kind of commercial cleaning services that your business requires, feel free to contact our professional commercial cleaners melbourne of Commercial Clean Melbourne. We would be happy to evaluate your cleaning needs and come up with a bespoke cleaning plan for your business. For consultation and to know more about our commercial cleaning melbourne services, call us on 1300 963 650.