Is your office space germ-free? It might look spotless; however, germs can hide behind your naked eyes and contaminate your office space. It is why proper disinfection should happen after every cleaning. When you hire professional office cleaners in melbourne, they employ advanced cleaning methods customised for your space and clean & disinfect every area with proper attention. As you're aware of the dangers of cross-contamination, it is essential to do commercial disinfection as part of your cleaning routine. Let's see how to do them properly to stay protected.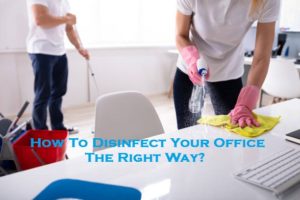 Wear Protective Clothing
Protect yourself and prevent the contamination of the space you're sanitising by wearing protective clothing like hand gloves, face masks, and goggles. You can consider wearing a complete protective suit depending on the location you're disinfecting. If you're dusting, you may consider wearing goggles to avoid dust or debris get into your eyes.
Dust Before Cleaning
When you want to sanitise the area properly, make sure to dust the area to clear any mess, dirt, and debris. It will improve your cleaning process and help clear out the dirt and debris effectively. Then follow it with the right type of disinfectant that matches your surface. Avoid using harmful chemicals to clean the surface as it may ruin the look. Use the microfiber cloth to dust and wipe the areas gently and thoroughly. Hire a professional office cleaning in melbourne company for all your office cleaning needs!
Allow Contact Time
When it comes to disinfection, people often spray the disinfectant and wipes it off quickly before it gets dry. Avoid wiping off early and allow the disinfectant to work on the surface for about 3-5 minutes. Generally, disinfectants will need a bit of contact time to react with the surfaces before wiping them off. Always ensure to read the label instructions to know the contact time and do it accordingly.
Whether you need commercial cleaning or commercial disinfection services for your office space, you can feel free to call Commercial Clean Melbourne on 1300 963 650 today.