Regular commercial cleaning is a key part of maintaining a healthy workspace. It not only helps keeping the place pleasant for your employees and visitors, but also reduces the risk of spreading infections and illnesses. Whether you have an office, restaurant, hotel, a manufacturing unit or any other workspace, it is a difficult job to keep on top for all kinds of messes. However, knowing how often you should clean can save you from the hassles.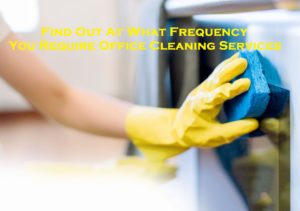 The Frequency Of Your Office Cleaning Depends On The Following Factors:
Number Of People:
The number of people visiting your business every day, including clients, visitors and employees is one of the most important factors to consider. If you have a small business with a few staff, you can get your office cleaned once a week. However, bathrooms and kitchen areas should be cleaned everyday even if you have a limited number of employees. A medium-sized office with 20 to 25 employees needs to be cleaned twice or thrice a week. Large businesses require every-day cleaning, and more than once a day cleaning in the restroom areas.
Types Of Businesses:
When it comes to school and restaurant, it should be cleaned every day for health and safety reasons. However, if you own a small office, it requires cleaning less often. The industrial businesses which don't have a lot of employees or visitors may not need every day cleaning. On the other hand, public places like bathrooms and reception areas should be well cleaned and maintained frequently.
Cleaning Tasks That Should Be Done A Few Times Per Week:
Vacuuming the floors
Mopping hard flooring
Wiping down desktops
Wiping down meeting rooms
Cleaning, sanitising and disinfecting bathrooms
If you own a business in Melbourne and are looking for commercial cleaning melbourne services, get in touch with Commercial Clean Melbourne. Our commercial cleaners melbourne are highly trained and vetted to take care of all your general cleaning needs. We use safe cleaning products, meaning that our office cleaning melbourne services are safe for your staff as well as your office environment. For more information on our cleaning services, call us on 1300 963 650.