Did you purchase anything for your office that you did not need anymore? If yes, you are not alone. New Year gives us the perfect opportunity to evaluate what you own and get rid of what you don't. However, lots of businesses don't know where to start when it comes to decluttering and organising their office. In addition to hiring a office cleaning melbourne company to get your office thoroughly cleaned, there are certain things you need to do to clear out some space and grow your business.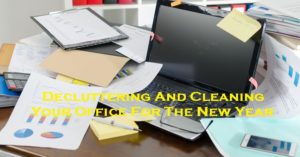 Here Are Some Actionable Tips For You:
Go Through Section By Section:
Decluttering and organsing your office at once seems a bit intimidating, so start with one area and then work your way around the room. For instance, start just with your drawers, filing cabinet or desktop and then move on to other sections.
Keep Only The Essentials:
Over time, the documents tend to build up and occupy a lot of physical space in your office. So, you can keep only those essential documents that you might need for compliance reasons. Other items can be scanned and stored as digital copies.
Categorise The Essentials:
Once you have disposed of the unwanted things, it is time for you to sort the essential things out and categorise them appropriately. If you have several clients, you can sort things between clients or areas like finance and marketing.
Label Everything:
 In order to quickly find things when you need them, you need to label everything clearly. Make sure it is large enough to read from your workspace or you can even use colour codes to identify things easily.
Clean Your Office:
Even after decluttering and organising your workspace, dust and dirt will build up which calls for professional office cleaners melbourne experts.
To have your office professionally cleaned and sanitised, you can approach the commercial cleaning melbourne team of Commercial Clean Melbourne. We understand the cleaning standard that we need to comply with and use relevant cleaning supplies to achieve appropriate office hygiene levels. To create a bespoke office cleaning package, call 1300 963 650 and talk to us today.